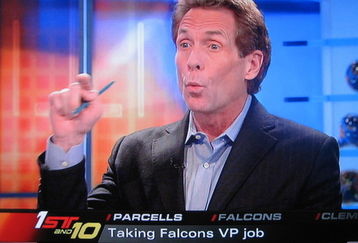 Unlike most people, I don't hate ESPN's Skip Bayless. Yeah, he speaks out of his butt sometimes, seems out of touch at other times and seems to hold onto too many grudges. I believe that he gets his role as the guy people hate. And he does predict some things that do happen.

Not for a while, though.

Going into the college football season, Bayless trumpeted the Oklahoma Sooners as the next champion. They've lost two games already. Sure, he didn't know that Sam Bradford would be injured but the Sooners didn't look that good against BYU before he got hurt.

Going into the baseball playoffs, Bayless was trumpeting the Boston Red Sox. He said that they were laying in the weeds and will take down the mighty Yankees. Boston was swept out of the first round by the Angels. Speaking of the Yankees, Bayless predicted that Alex Rodriguez and C.C. Sabathia will continue their poor postseason play and doom the Bronx Bombers. A-Rod was awesome in their series with the Twins and Sabathia has been dominant in his two starts.

He also picked the Dallas Cowboys to do some big things in the NFL this season. Right now, they are 3-2 after an overtime win over the winless Kansas City Chiefs. Hardly dominant. Hardly playoff worthy.
Maybe that's picking nits, but you lose a bit of credibility when your anti-Yankee beliefs hinder your objective reporting (hey, I hate the Yankees too but I know this is a special squad).

Again, I'm not a Skip Bayless hater at all. I'm about 50-50 on what he says. Still, he's struggling with his picks recently.